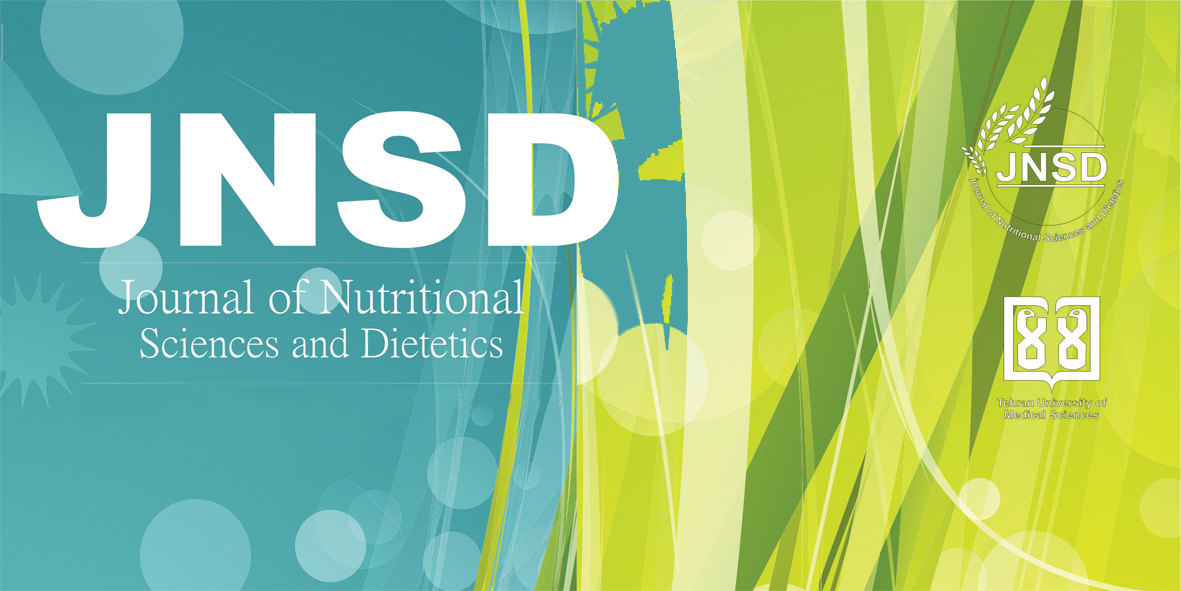 Journal of Nutritional Sciences and Dietetics (JNSD) is the official journal of the School of Nutritional Sciences and Dietetics, Tehran University of Medical Sciences, Tehran, Iran. Considering high prevalence and growing trends of chronic diseases and their nutritional risk factors, as well as growing problems related to food and nutrition insecurity, research about these issues and their timely publication is essential.
JNSD is an open-access peer-reviewed journal published quarterly. The aim of this journal is to publish results of outstanding studies from basic research to clinical investigations to community nutrition. As an international journal, it will consider original articles, systematic reviews, meta-analyses, invited reviews, editorials, letters to editor and viewpoints. Proceedings of international conferences and symposia may be published as supplements to JNSD. The subject areas include, but are not limited to, the following fields: Public health nutrition, Nutritional epidemiology, Dietary patterns, Community nutrition, Food and nutrition security, Nutrition in disease prevention, Nutritional economics, Nutrition and the environment, Food and nutrition education, Clinical nutrition, Food and drug interactions, Sports nutrition, Nutritional requirements, Nutritional biochemistry, Nutritional immunology, Nutrigenetics and nutrigenomics, Nutritional quality of novel foods, Nutrient interactions, Food safety, Functional foods.
Current Issue
Vol 5, No 2 (Spring 2019)
Review Article(s)
Background: Tart Cherry (TC) is recommended for muscle damage and delayed onset muscle soreness (DOMS); however, the evidence is uncertain. The purpose of this study was to determine the effects of TC on delayed onset muscle soreness (DOMS) and Creatine kinase (CK).
Methods: Randomized Controlled Trials (RCTs) were extracted from a literature search of online databases (PubMed and Scopus) performed up to September 5, 2018. Mean differences (MDs) with 95% confidence interval (CI) between TC and placebo using random effects analysis.
Results: In total, eight trials met the inclusion criteria including 189 athletes (TC 92, placebo 97). Pooling data showed plasma CK activity was reduce after TC supplementation at three follow-up times (24h: MD: -1.22, 95% CI: −1.85 to -0.59, p = 0<001, 48h: MD: -0.97 to 95% CI: -1.36 to -0.59, p = 0<001and more than 48 h: MD: -0.81 to 95% CI: -1.31 to -0.30, p = 0<001) in comparison to placebo group. There were no significant changes in DOMS between intervention and control groups in three times (24: MD: -0.79, 95% CI: −1.72 to 0.15, p = 0.98, 48h: MD: -0.72 to 95% CI: -2.29 to 0.85, p = 0.36 and >48h: MD: -0.06, 95% CI: −0.81 to 0.69, p = 0.87).
Conclusion: Overall, our analysis supports tart cherry use for reducing Creatine kinase level after exercise. However, Tart cherry supplementation had no significant effect on DOMS. Additional research is required to determine effect of TC on muscle damage and DOMS in animals and humans.
View All Issues