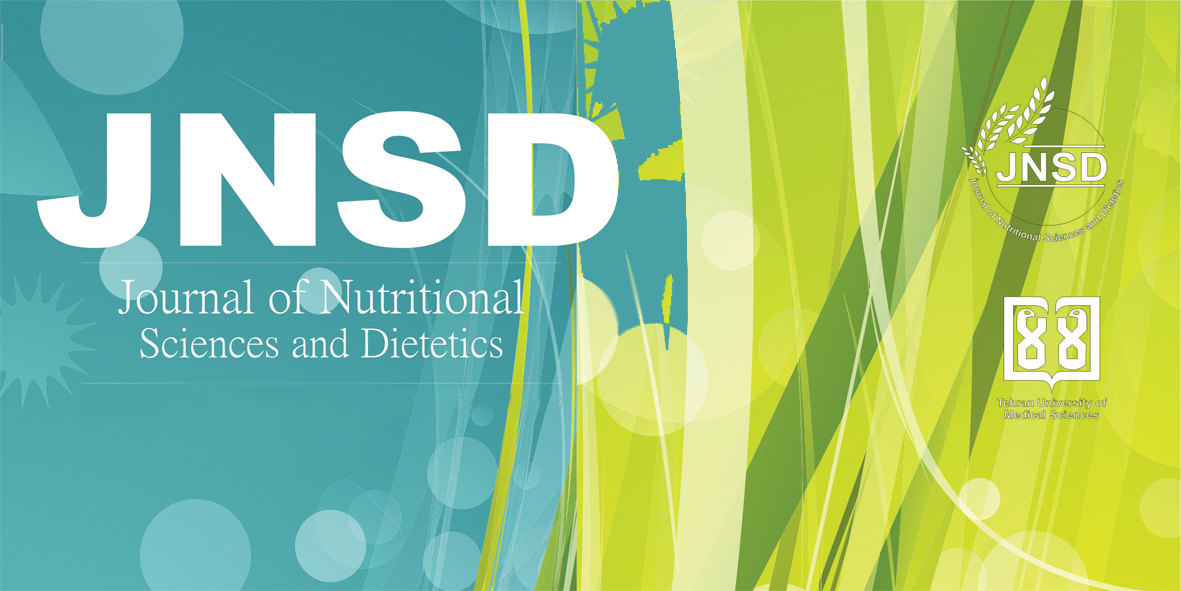 Journal of Nutritional Sciences and Dietetics (JNSD) is the official journal of the School of Nutritional Sciences and Dietetics, Tehran University of Medical Sciences, Tehran, Iran. Considering high prevalence and growing trends of chronic diseases and their nutritional risk factors, as well as growing problems related to food and nutrition insecurity, research about these issues and their timely publication is essential.
JNSD is an open-access peer-reviewed journal published quarterly. The aim of this journal is to publish results of outstanding studies from basic research to clinical investigations to community nutrition. As an international journal, it will consider original articles, systematic reviews, meta-analyses, invited reviews, editorials, letters to editor and viewpoints. Proceedings of international conferences and symposia may be published as supplements to JNSD. The subject areas include, but are not limited to, the following fields: Public health nutrition, Nutritional epidemiology, Dietary patterns, Community nutrition, Food and nutrition security, Nutrition in disease prevention, Nutritional economics, Nutrition and the environment, Food and nutrition education, Clinical nutrition, Food and drug interactions, Sports nutrition, Nutritional requirements, Nutritional biochemistry, Nutritional immunology, Nutrigenetics and nutrigenomics, Nutritional quality of novel foods, Nutrient interactions, Food safety, Functional foods.
Current Issue
Vol 6, No 1 (Winter 2020)
Articles
A vast variety of local and systemic treatments have been utilized in the management of oral lichen planus (OLP). The efficiency of IMOD (an Iranian new immunomodulatory drug, containing selenium, carotene, and flavonoids) in the treatment of OLP was assessed. In a randomized double-blind placebo/controlled trial study, 40 individuals (who referred to the oral and maxillofacial department of the School of Dentistry) with lichen planus were registered. The study enclosed a three-month period of therapy by IMOD (480 mg/day) (n=20) or placebo (n=20), and a three-month follow-up period after drug interruption. Consequence measures contain pain or burning severity, clinical score, clinical global impression of change (CGIC) and patient global impression of change (PGIC). Unstimulated saliva levels of total antioxidant capacity (TAC), Malondialdehyde (MDA), uric acid and TNF-α were tested at the baseline and after treatment and calculated their changes. Statistical analysis of Mann-Whitney and unpaired student's t-test were used. There were no noteworthy changes between placebo and IMOD treaded groups in pain or burning severity, clinical score, CGIC and PGIC following 2,4,8,12, and 24 weeks following treatment and also in saliva TAC, MDA, TNF-α and uric acid changes. IMOD lacks proper efficacy in the management of severe or very severe OLP lesions. 

Background: Previous studies have suggested a positive association between a more pro-inflammatory diet and lifestyle- factors with obesity, separately.

Objective: Determine the relationship between the dietary and lifestyle inflammatory-score (DLIS) and general and abdominal obesity in adults.

 Methods: We included 834 adults aged 18 to 59 years (69% female, mean age: 44.7 ± 10.7 years). Using a 168-item semi-quantitative food frequency questionnaire, we collected dietary-intakes. The DLIS was calculated by using the dietary inflammatory score, calculated by data from 18 components of the diet, and two components of the lifestyle including physical-activity and cigarette smoking. The odds ratio (OR) and 95% CI of the general and abdominal adiposity across quartiles of the DLIS was calculated by logistic-regression analysis after controlling for age, sex, marital status, occupation, education status, and energy intake.

Results: The DLIS ranged between -3.00 and 2.32 (man ± SD: -0.31 ± 0.99). The ORs of central obesity, as assessed by waist-to-hip ratio (≥0.8 for women and ≥1 for men) across quartiles of the DLIS were as follows: 1.91 (95%CI: 1.21, 3.02), 1.62 (95%CI: 1.03, 2.56), and 1.25 (95%CI: 0.79, 1.97) for the second, third, and fourth quartiles, respectively. The results for weight-to-height ratio (>0.5) were 2.26 (95%CI: 1.24, 4.11), 1.08 (95%CI: 0.63, 1.86), and 1.38 (95%CI: 0.79, 2.39) for the second, third, and fourth quartiles, respectively. Higher DLIS was not associated with increased waist-circumference and general-obesity as assessed by body mass index.

Conclusion: Having a diet and lifestyle with more pro-inflammatory properties may be associated with abdominal-adiposity.

Background: Folic acid deficiency can be harmful specifically for the vulnerable population worldwide. The most reliable way to provide enough folic acid to population is adding it to the staple foods. Bread is the most important staple food for Iranian population. However, food preparation may affect folate stability.

Objective: determine the effect of different procedures of bread preparation including fermentation and baking on folic acid content of most popular types of breads.

Methods: The aim of this study was to determine the effect of food processing, including fermentation and baking on folic acid content of folic acid fortified Iranian breads such as Lavash, Taftoon and Barbari. The flour was fortified with folic acid (0.15 mg/100 g). Breads were prepared by fortified flour, sourdough, salt and water.

 Results: Folic acid was extracted first and then was determined using the HPLC after the preparation procedure. The folic acid content in the all of the three types of flour (Lavash, Taftoon and Barbari) was changed significantly during the fortification. There was no significant difference in folic acid content between dough before and after the fermentation process. The folic acid content was decreased after the baking of all types of breads. This reduction was lowest in Barbari breads. This might be due to the lower baking temperature and higher thickness of Barbari.

Conclusion: Approximately 24-40 percent of the folic acid content of the three types of breads was decreased due to the baking process.
Original Article(s)
Abstract:

Objective: There is limited number of study on dietary supplements use in most gyms clubs. The aims of current study were to assess supplement intake in athletes who exercise regularly in gyms in the city of Qom, Iran, and to determine the knowledge, attitude, and practice regarding dietary supplement.

Methods: We conducted a cross-sectional study among 300 athletes who were randomly selected from 18 sport clubs of Qom city between November 2015 and March 2016. A self-administered questionnaire containing 34 questions was used to evaluate the socio-demographic characteristic, knowledge, attitude, and practices of athletes on dietary supplements. Validity and reliability of questionnaire determined through panel of experts and Cronbach's alpha (N=24, α=0.79) respectively.

Results: Our results showed that 28% of women, and 62% of men had the history of supplement usage (42 percent of all participants). Male were more likely to take supplements than females (p<0.01). The results of knowledge questions showed that more than half of the questions (56.3%) were answered correctly. Although, coaches was the main source of information on dietary supplements (43%), but significant difference was shown between men and women.

Conclusion: The results of this study were reported that nearly half (42%) of athletes used dietary supplement. The overall scores indicated that dietary supplements knowledge of these athletes is not enough for healthy decision making. The source of information and dietary supplement practices of athletes were strongly affected by gender.

Keywords: Dietary Supplements, Knowledge, athlete, Coaches.

Abstract

Background: Introduction of genetically modified foods could be a potential solution for poor nutrition and poor health. The purpose of this study was to determine the consumers' attitudes toward and willingness to purchase genetically modified foods (GMFs), and their opinion about the necessity of labeling these products.

Methods: This cross-sectional study aimed to evaluate the attitudes toward, the willingness to purchase, and the necessity of labeling GMFs among 203 employees of the medical university (mean age: 39.98 years old), consisting of 126 females (62.1%) and 77 males (37.9%), using a validated questionnaire. The validity and reliability of the questionnaire were examined by an expert panel and the test-retest method. Data analysis was performed by SPSS.

Results: The results of this study showed that 11.3% of the participants had a positive, and 37.9% had a negative attitude toward GMFs. Out of all the participants, 81.7% completely agreed on the labeling of GMFs, 13.3% tended to buy these products, and 49.3% were unwilling to purchase these foods. There was a significant relationship between gender, attitudes (p= 0.005), and the necessity of labeling (p= 0.050). A significant difference was observed between the history of food intolerance and the necessity of labeling (p= 0.040). Also, there was a significant relationship between the attitudes and the willingness to buy genetically modified products (p< 0.001, R= 0.368).

Conclusion: The participants in this study were observed to have a low willingness to buy genetically modified products. Therefore, if the individuals' awareness of the benefits of GMFs is increased, they will show a tendency for purchasing these products.
Review Article(s)
An accurate understanding of B vitamin status in patients with Inflammatory Bowel Disease (IBD) can prevent controversial dietary advice; hence, the current study aimed to review the literature published on B vitamins status in patients with IBD systematically.

An extensive literature search was conducted through search engines including PubMed, Scopus, and Google Scholar from Jan. 2000 to 26 April of 2020. The meta-analysis was performed using random effect measures.   

Thirteen cross sectional and 19 case-control studies including 8492 participants were selected. Vitamin B12 deficiency was mostly observed (above 30%) in patients with Crohn disease (CD). Folate deficiency was mostly found in patients with CD (92%) and the ones with ulcerative colitis (UC) (94.2%). In several studies, the prevalence of vitamin B12 and B6 deficiency was greater in patients with CD than in the ones with UC. Based on meta-analysis results, there were no significant differences in the mean serum level of vitamin B12 between patients with IBD and controls.

This review showed that the prevalence of B vitamins deficiency was higher in patients with UC than in the ones with CD, and folate deficiency was more common than other B vitamins deficiencies in patients with IBD.
View All Issues